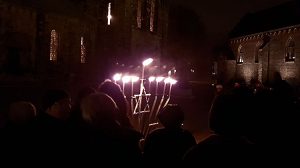 The Jewish Center in Lund (JCL) is a non-profit, independent organization in Lund, whose purpose it is to:
Promote interest in Jewish culture, religion and history
Disseminate information about Judaism and Jewish culture
Promote interaction between Jewish and Swedish cultural heritage
Oppose all forms of racism, discrimination and anti-Semitism
Promote democracy and the peaceful coexistence between cultures
JCL is a Lund-based organization aimed at people interested in Jewish culture, religion and history.
Our activities include cultural activities with religious elements. We arrange lectures, child and youth activities, parties and other events connected to Jewish themes and Jewish holidays and occasionally services.
The organization cooperates with other actors in order to further the goals of the organization. We do not meet in any fixed location, but rather alternate between different locales in Lund.
Our members are both Jews and non-Jews, religious and non-religious. Today's members have their roots in Sweden, Israel, Poland, Turkey, Germany, USA, Brazil and many other countries.
Our current program is always available on our website.
Membership dues, other fees and voluntary donations may be paid to JCL's bank account 150 98 74 -2 (Nordea bank)  or by Swedish Swish to phone number 123 381 9679.
Please write [the name of the event] and [fee + your name] on the message line or, in the case of donations, "Donation" + your name (optional).
For membership, please contact us – please, use our contact page